Huntcliff View Apartment is a beautifully designed apartment located in a stunning listed building. Situated in the seaside town of Saltburn-by-the-Sea, this two bedroom apartment boasts incredible views across the cliffs of the North Yorkshire coastline. You can enjoy all the town has to offer with just a short walk to the selection of independent shops, eateries and the soft sands of Saltburn beach.
Trip Details
Property Highlight #1
Incredible Sea Views
Huntcliff View Apartment benefits from stunning views of the coast and cliffs. Whether you're relaxing in the living room or heading to bed, you'll see the waves from the windows.
Property Highlight #2
Stunning Listed Building
Huntcliff View is located within a beautiful listed building in Saltburn-by-the-Sea so the apartment has lots of character and charm.
Property Highlight #3
Central Location
Huntcliff View Apartment is located in the centre of Saltburn-by-the-Sea, just a short walk from the beach, shops, cafes and restaurants.
The Space
Beautifully decorated throughout, Huntcliff View Apartment is a stunning holiday apartment which has been recently renovated to the highest standard. Based within a listed building, you can expect plenty of character and charm. With a luxury yet minimalist style, the apartment features splashes of jewel tones and textures like velvet and rattan.

The apartment benefits from a large living room, kitchen and dining area. Ideal for spending time with your loved ones, you can snuggle up on the blue chaise lounge style sofa. Whether you'd prefer to watch the flat screen TV or take in the incredible views of the coastline, this is certainly the perfect place to unwind.

Huntcliff View Apartment has two spacious bedrooms. The master bedroom boasts a Super King bed whilst the second is a comfortable double. Both rooms have a tranquil feel so you can enjoy your night's sleep. You'll also have gorgeous views of the beach and Huntcliff in the distance from the tall windows. If you would prefer the Super King to be split into two singles, this can be arranged for your stay.

The family bathroom features patterned floor tiles and navy panelling which gives a real vintage feel. Enjoy a relaxing soak in the freestanding bathtub or make use of the large walk in shower. The space is complete with a WC and Victorian style basin.
Neighborhood
Huntcliff View Apartment is located in the centre of the charming Victorian Spa town of Saltburn-by-the-Sea on the North Yorkshire coast.

Located in the heart of the town, alongside the shops, bars, bistros and restaurants, with just a short walk to the beach and lower promenade. Take the oldest functioning cliff lift in the UK down to the promenade and you'll arrive at the 208-metre pier which stretches out into the sea. The long sandy shores are overlooked by colourful boutique beach huts and high cliffs tower in the distance.

Saltburn has plenty of beautiful walks too. The Valley Gardens are a maze of paths and tracks which wind through the flowers and woodland. If you want to explore further, The Cleveland Way National Trail is over 100 miles long and Saltburn is included. If you fancy a 17.5 mile jaunt, start at Saltburn and walk your way to Sandsend. This walk is a great way to explore the North Yorkshire coastline and the views are truly stunning.
Getting Around
Huntcliff View Apartment is within walking distance of all that Saltburn has to offer and within 30 minutes' drive time of Staithes, Whitby, Middlesbrough and the North Yorkshire Moors.

Saltburn Train Station is a short walk away and has routes to Longbeck, Redcar, Middlesbrough and Darlington with connecting trains to Newcastle, York, Leeds, Manchester and London.

There are plenty of bus routes throughout Saltburn. Hop on the Arriva North East route and you can visit beautiful coastal villages like Staithes, Runswick Bay and Whitby. The Moorsbus route has drop offs at Newton Under Roseberry, Great Ayton, Stokesley and Helmsley.
Smoke detector
Carbon monoxide detector
Family/kid friendly
Path to entrance lit at night
Enhanced cleaning practices
High touch surfaces disinfected
Cleaning Disinfection
Heating
Hot water
Bathtub
Bed linens
Coffee maker
Cookware
Laptop friendly workspace
Dishes and silverware
Dishwasher
Extra pillows and blankets
Refrigerator
Hangers
Hair dryer
Kettle
Kitchen
Oven
Microwave
Stove
Suitable for infants (under 2 years)
Suitable for children (2-12 years)
Toaster
Towels provided
Washer
TV
Iron
Free parking on street
Internet
Wireless Internet
Guests have access to the full apartment. The keys to the property are accessed via a secure key safe and full details will be provided shortly before your arrival date.

Please note the apartment is on the third floor and there is no lift access in the building.

There is free on street parking available and no permit is required.
Check-in: 15:00
Checkout: 10:00
From the guestbook
4.84
(49 Reviews)
Thompson
31/07/2022
Guy
26/07/2022
Prime location in Saltburn with great sea views. Lovely apartment and a perfect stay for 2 nights.
Matthew
10/07/2022
Amazing flat in a perfect location close to shops and the pier. The views from the flat are sensational. Great communication from the hosts. Highly recommend!
James
08/06/2022
The Apartment was lovely and everything we needed was in it.
The communal entrance stairs and hallways could do with some updating..gave a bad impression on entry, whereas the apartment was decorated and furnished really well.
Ian
06/06/2022
The apartment is fantastic, and the stairs are OK to climb, wide and not steep. The views are amazing and everything you could need from the seaside, shops, cafe, bars - and valley gardens. All within 5 mins walk.
Rikki
01/06/2022
Lovely apartment, well located. As others have said the stairs to the apartment might be a consideration for any younger visitors or those with mobility issues but it's a great work out and worth the climb! The views and decor are equally stunning. Parking is very easy outside the apartment.
Andrew
27/05/2022
The apartment is fabulous, and the views over the cliffs are breathtaking!
All the rooms have been lovingly renovated and decorated, the kitchen has been very well equipped.
The location is ideal for both wandering along the extensive beach, and for exploring the North Yorks Moors. We would have no hesitation in booking here again next time we are in the area.
Lauryn
24/05/2022
Pristine accommodation in an amazing location! The host is very communicative and responsive and the place boasts amazing facilities. Would absolutely recommend!
Michael
15/05/2022
This apartment is beautiful presented and furnished, everything was above my expectation.
The views from bedroom and living room were picturesque and whole apartment had a lovely calming energy.
Absolutely faultless. Thank you.
Only having to leave
Matt
24/04/2022
This was a really lovely, spacious and comfortable apartment with some stunning views across the coast. It was well equipped, everything looked immaculate. The climb up a few flights of stairs to get to it was a good test of fitness, especially with heavy bags. If you're lucky, you can park right outside the front of the building and it appeared to be free.

Great location for walking into the town centre just around the corner where there is a Sainsbury's supermarket and some nice shops. Enjoyed a few stops in Signals Cafe & Bar and a very nice meal in the Coco & Rum fusion Thai restaurant. There are some other interesting locations including Whitby, Staithes and Captain Cook's Monument (Great Ayton) that are all within a 20-35 minute drive.
Matt
18/04/2022
Lovely stylish apartment with great views over the beach, the apartment is very well equipped and everything was cleaned to a very high standard. We stayed for Easter weekend and found plenty to do in the town.
Maggie
03/04/2022
beautiful apartment in a fabulous location
Andrew
22/03/2022
The place was absolutely flawless. Incredible for long treks out and it's so reassuring to see your property visible for miles as you re enter saltburn after a trek to staithes or skinningrove. It's truly a magical place and hope to be back very soon, if there were 6 stars I would have given them!
Lisa
19/03/2022
This was such a perfect place to stay! It's right on the seafront with amazing views of the coastline!

It was so comfortable and had everything you could need, it really felt like home! I'm only sad that we didn't stay longer!

As others have said the entrance and hallways could do with some TLC but the accommodation is stunning, lots of thought and care has gone into the design & decoration!

We had no problems getting parked right outside! Some cars had resident parking stickers inside their windows which worried me but I was assured no permits were required and my car was fine (no ticket received ??).

We did lots of walking while we were there as the Cleveland Way is close by so we had no need to get in the car at all!

A perfect couple of days away with the added bonus of glorious weather!
Tessa
07/03/2022
Huntcliff View is a very comfortable and clean apartment with good quality fittings, a well equipped kitchen and beautiful bathroom The views are spectacular.
Don't be put off by the entrance hall and staircase!
Catrin
14/02/2022
like others who have stayed previously we wanted to buy this place! beautifully decorated and had everything that we could have possibly needed. Great location just above the beach and around the corner from some lovely independent restaurants and cafes. Will definitely be returning ?
Jane
09/02/2022
Fabulous flat and location. Stylish and well equipped. We wanted to buy it!!
Mr
30/01/2022
The view,the decor,the furnishings were all outstanding.
The entrance lobby and the stairs were grubby with virtually no lighting.
Linda
28/01/2022
Fabulous apartment with such stunning views..
It was immaculately clean and very comfortable. I would definitely recommend staying.. I fell in love with Saltburn too. The Seaview restaurant is worth a visit or two
Ashleigh
23/01/2022
The best views! I never tire of sitting by the window in this apartment.
Great location for everything Saltburn has to offer.
Lovely and spacious. Well equipped kitchen. This was our 2nd stay and won't be our last.
Natasha
16/01/2022
Absolutely amazing in every way! The incredible views were matched by a very well thought out and beautiful apartment that had everything that you could possibly want. Probably my favourite apartment that I've ever been lucky enough to stay in!
Alice
12/01/2022
Thanks so much for having us for a much needed getaway for us and our new baby. The property is beautifully presented, with a great location and incredible views. The stairs really aren't that bad!
Ian
02/01/2022
A beautiful stay in Saltburn. The apartment is exactly as described, and has the most fantastic views over the sea front. Apartment really well fitted out, with everything you'd need for a long weekend or more. We will certainly be returning in future!
Mark
31/12/2021
We'd all be very happy to stay here again if it's available. Other than the trek up the stairs (especially when packing and unpacking the car!) it was an absolute pleasure. The view made that climb more than worth it anyway, even better than the pictures suggest.
Claire
17/12/2021
Beautiful apartment, perfect location, incredible views!
Carys
15/12/2021
I couldn't recommend staying at Huntcliff View more. The apartment itself is finished to an extremely high standard and the views are stunning. Excellent communication from Host & Stay and also lovely personal touches (milk in the fridge on arrival and a decorated Christmas tree!) which were greatly appreciated. I grew up in the area so I was back visiting family and feel like I've been on a luxury holiday. Can't wait for our next visit. Thank you!
Also highly recommend Coco and Rum the Thai restaurant in Saltburn to eat in or take away - delicious!
Liz
05/12/2021
The apartment is absolutely beautiful, a real home from home with an amazing sea view! We can't recommend highly enough. Stay North Yorkshire were wonderful hosts, very attentive and easy to communicate with.
Giles
26/11/2021
Had a great stay at the apartment. Don't be put off by the stairs - it's a bit of a climb especially with luggage and a 2 year old.
The apartment is bang up to date - lovely décor, furniture and carpets. Kitchen is well equipped and Bathroom is trés chic.
Sainsburys is a 3 minute walk around the corner for any supplies, there's also cafe's and takeaways close by.
The sea view is fantastic - took some great photo's just from the window.
Will hopefully return.
Ashleigh
21/11/2021
Perfect location with incredible view. Just a few minutes walk to the beach and train station in the opposite direction.
The apartment is spacious and well equipped. We look forward to returning.
Ash
28/10/2021
great place to stay. fittings and facilities are lovely and the communication from the host was great.
Carol
17/10/2021
Beautiful apartment in a great location sea views are fantastic. Would definitely recommend x
Jonathan
03/10/2021
Stunning apartment and so well equipped. All furniture and bedding is high quality, you can tell no expense has been spared.

Would definitely stay again!
Simon
20/09/2021
We thoroughly enjoyed our stay at Huntcliffe view. It was definitely worth the climb up the stairs. I was a little nervous when I saw the communal areas on arrival but hang in there and you won't be disappointed. It's a stunningly beautiful apartment with fabulous decor, I want to move in and never leave.
Unwin
11/09/2021
Lovely clean and spacious apartment. Fantastic views. Facilities were good with everything we could need. Location perfect.
The 60 stairs to the apartment. Also a scruffy front of building and entrance.
Vince
29/08/2021
Great location and accommodation, stunning views of the beach and coastline.
Nicola
27/08/2021
The apartment was super, close to the walk down to the beach and beautiful with amazing views!
Louise
26/07/2021
Abigail
11/07/2021
An amazing apartment in a perfect location. We had a brilliant stay and will definitely return.
Shirley
08/07/2021
The location was superb, the apartment was stunning
The entrance to the apartment block was shabby and dirty, the staircase leading up to the apartment was absolutely filthy , looked like a derelict building, very disappointing, I would love to use this apartment again , however the cleanliness leading up to the apartment , would stop me booking this apartment again
Clare
02/07/2021
Fabulous place to wake up with views of the beach and Hunts Cliff. Spotless and well equipped apartment.
Jeanette
30/06/2021
The apartment is just as it is described and a pleasure to be in. There is no lift and it is a bit of a windy climb to the 3rd floor particularly with luggage. The views from the front windows are beautiful. We had a relaxing couple of days and very much enjoyed our stay.
Deakin
26/06/2021
The views and bring close to the beach
The stairs
Joy
25/06/2021
A beautifully decorated and furnished apartment with stunning views over the bay. Don't be put off by the stairs it's worth every step!
Sarah
13/06/2021
Very luxurious accommodation.
Communal area somewhat run down as was the outside of the building. No information about fire evacuation.
Charlotte
04/06/2021
Absolutely stunning apartment, with incredible sea views. The rooms were spacious, beds super comfy and had everything we needed. Would definitely recommend.
Alison
21/05/2021
Great apartment! Spacious, nicely decorated, lovely views and a great location.
Andrew
24/04/2021
The property was very well presented and extremely comfortable.
The apartment is on the third floor of a block with no lift, the lights on the stairs did not work also.
The worst part was on the day of check out, I received a phone call from the letting agent who said that there had been complaints by the other residents in the block accusing myself of 'having a party' until 3am. Allegations which I totally refuted.
The reason for my stay was to attend the funeral on that day of my recently deceased mother, I explained this to the letting agent who was sympathetic but adamant that the allegations were true. After the cleaners conducted a check of the property to verify if a party had taken place the letting agent chose to email me rather than call to say the property was found in a condition that they would expect after a rental. During this period a £500 bond was taken from my bank account, this was returned only after the completion of the cleaners report.
The allegation of myself holding a party were unfounded and malicious by the residents in the block and extremely upsetting considering the reason for my stay. I was informed by the letting agent that there had been objections by the residents in relation to the property being a holiday let.
I feel sorry for the property owner and the letting agents having to deal with these small minded vulgar people who cannot accept change and wish to spoil other people's aspirations.
Carolyn
22/04/2021
Samuel Bradley
19/02/2021
Really lovely space. Light, airy and comfortable. Would stay again for sure post-covid!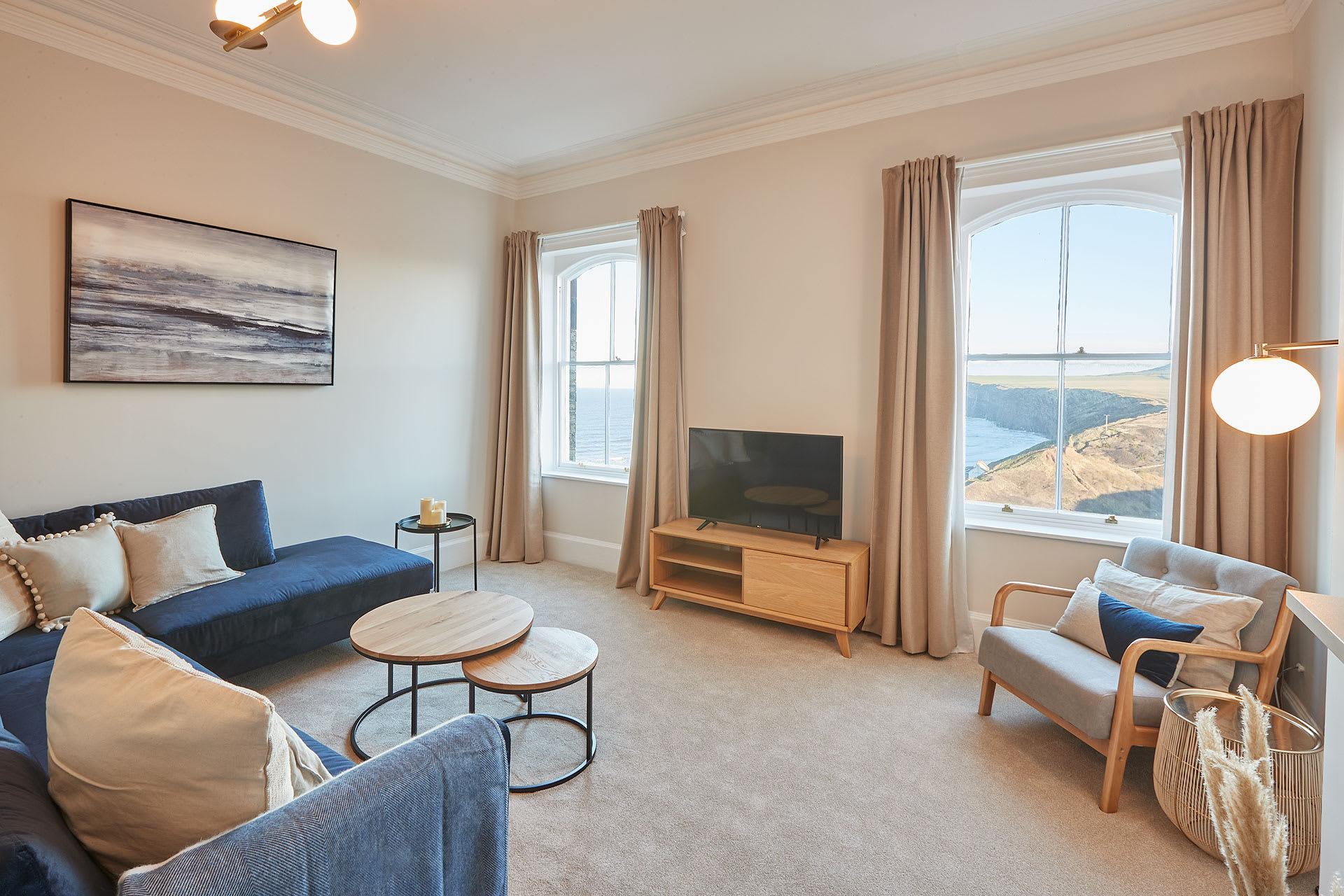 Home Truths
Free on street parking can be found outside the building but this is subject to availability. Additional free on street parking can be found nearby and no permit is required.
Due to the listed building, the apartment is unfortunately not dog friendly.
The apartment is located on the third floor and the building doesn't have a lift so you will need to climb stairs to reach it.
Similar Properties in the area
The Penthouse, Hudsons Yard House
The Penthouse, Hudsons Yard House
Sea Forever Seafront Villa
Sea Forever Seafront Villa