No.1 @ Gill Street is located in a quiet close in the beautiful seaside town of Saltburn-by-the-Sea. This stylish home features hard wood floors, exposed brick feature walls and the original cast iron stove. Sleeping 4 guests across two bedrooms, this charming holiday home is perfect for a peaceful family break or couples getaway.
Trip Details
Property Highlight #1
Modern and Stylish Interiors
Recently renovated, the property has gorgeous interiors with a mixture of modern and traditional styling.
Property Highlight #2
Quiet Neighbourhood
The property is located on a quiet row of townhouses making it perfect for family staycations.
Property Highlight #3
Peaceful Getaway
No.1 @ Gill Street is located a short distance from the hustle and bustle of the town centre whilst also a two minute walk from the woods so you have the best of both worlds.
The Space
If you're looking for a short staycation in a stylish spot by the sea, No.1 Gill Street is for you.

The ground floor is home to an open plan living and dining area, with separate kitchen. The living area is a large space, filled with natural light from the feature bay window. The hardwood floors and cast iron fireplace add character to the space. The leather sofas are perfectly positioned to gather around the TV or enjoy games night with your friends and family. The luxurious rug, lamps and faux plants bring a real feeling of 'home' to the room.

Stepping down into the dining area, you are greeted with beautiful Victorian path floor tiles with contrasting monochrome tiles surrounding the fireplace. The oval, wooden dining table sits in the centre of the room, with solid veneered dining chairs neatly surrounding it. This truly is the perfect space to enjoy a home cooked meal.

Continuing through the house to the rear of the ground floor, you will find the kitchen and sunroom. A stunning glass roof overhead floods the space with natural light while allowing you to look up to the stars by night. The sunroom space can be enjoyed by all the family and extends out onto the private patio area, perfect for those warmer days. The exposed brick wall runs the length of the room allowing the space to naturally flow out into the outside area.

The modern kitchen sits around the original cast iron stove, bringing the old and new together. The kitchen features high gloss, white, smooth units and a solid granite worktop. The kitchen comes fully equipped with an electric oven with microwave above, induction hob, freestanding fridge-freezer, toaster and kettle. With a dishwasher, coffee machine and flat screen TV to complete the facilities, you can enjoy your home comforts at No.1 Gill Street.

The first floor of the property is home to the two bedrooms and the family wet room.

The exposed brick continues through the property up to the master bedroom, creating a feature wall behind the head of the king size bed. This spacious room is complete with large freestanding wardrobes and drawers. Finished neutrally with crisp white linen along with greige and stone coloured soft furnishings, you'll be happy to retreat here to unwind.

The second bedroom is a twin bedroom, home to two single beds. With small muted bed side lamps, this room is simple and calm. The perfect place to relax after a day exploring.

The family wet room features a quality bathroom suite, including a large freestanding bath, shower, vanity unit and WC. The underfloor heating ensures you're kept cosy warm during your morning shower and evening soak.

Just a two minute walk to the woods and located right on the Cleveland Way, No 1 Gill Street is a hidden away gem in a beautiful seaside town. If you are in search of fresh sea air, beautiful beach walks and a stunning property to rest, No.1 Gill Street should be top of your list.

Please note the fire in the living area is for decoration purposes only.
Neighborhood
No.1 @ Gill Street is located in the charming Victorian Spa town of Saltburn-by-the-Sea on the North Yorkshire coast.

It is only a short walk to the centre of town from No.1 @ Gill Street. Here you'll find restaurants, cafes, bars and independent shops. Take the oldest functioning cliff lift in the UK down to the promenade and you'll arrive at the 208-metre pier which stretches out into the sea. The long sandy shores are overlooked by colourful boutique beach huts and high cliffs tower in the distance.

Saltburn has plenty of beautiful walks too. The Valley Gardens are a maze of paths and tracks which wind through the flowers and woodland. If you want to explore further, The Cleveland Way National Trail is over 100 miles long and the lovely Saltburn is featured. If you fancy a 17.5 mile jaunt, start at Saltburn and walk your way to Sandsend. This walk is a great way to explore the North Yorkshire coastline and the views are beautiful!
Getting Around
No.1 @ Gill Street is within 30 minutes' drive time of Staithes, Whitby, Middlesbrough and the North Yorkshire Moors.

Saltburn Train Station is a 10-minute walk away and has routes to Longbeck, Redcar, Middlesbrough and Darlington with connecting trains to Newcastle, York, Leeds, Manchester and London.

There are plenty of bus routes throughout Saltburn. Hop on the Arriva North East route and you can visit beautiful coastal villages like Staithes, Runswick Bay and Whitby. The Moorsbus route has drop offs at Newton Under Roseberry, Great Ayton, Stokesley and Helmsley.
Kitchen
Kettle
Hair dryer
Hot water
Enhanced cleaning practices
High touch surfaces disinfected
Cleaning Disinfection
Heating
Iron
Refrigerator
Stove
TV
Washer
Dishwasher
Cable TV
Laptop friendly workspace
Microwave
Oven
Bed linens
Bathtub
Cookware
Dishes and silverware
Free parking on street
Internet
Hangers
Private entrance
Suitable for children (2-12 years)
Suitable for infants (under 2 years)
Smoke detector
Wireless Internet
Towels provided
Toaster
Patio or balcony
Guests have access to the full property. The keys to the property are accessed via a secure key safe and full details will be provided shortly before your arrival date.

On-street parking is available just 1 minute walk from the property, you can unload directly outside the property.
Check-in: 15:00
Checkout: 10:00
From the guestbook
4.66
(34 Reviews)
Carol
26/07/2022
This is a lovely place to stay. The beds are comfortable, the kitchen has everything you need and the thoughtful design and decor make it a really relaxing space to be in just a short walk from the centre of Saltburn.
Sharon
18/07/2022
Fabulous property - everything about it was perfect and it really is beautiful inside, particularly downstairs. It was just a shame we were out and about so much that we didn't spend as much time at the property to fully enjoy it. Definitely one we'd come back to, though. Great location and easy parking, too.
Cannon
16/07/2022
June
03/07/2022
The house is clean, tidy and well equipped. The rooms are spacious. It is in a nice part of town and the 10/15 mins walk into town via Victoria Terrace or Saltburn Valley Gardens is delightful.
It is overpriced. At over £2,000 for 2 weeks we expected better. One of the wardrobe doors is missing. The top oven is broke, replaced by a small microwave. The glass cupboards in the kitchen are way too high. The coat hangers on the front door are way too high (I am 5' 5" tall and struggled to reach them). The description of the house is misleading. It says nothing about there being a step down from the hall to the dining area, a step up to the lounge area, a step down to the kitchen. There is no parking outside the house. You can unload your car outside the house but have to park your car across the road in Victoria Terrace out of sight of the house. The seating area in the front yard could be nice if there wasn't an old abandoned car surrounded by weeds right next to the fence (tax disc 10/2014). The areas in the front and at the side of the house are very unsightly, full of weeds, old plant pots and a discarded washing line so we couldn't make use of this area. The hedges are overgrown making the lounge very dark.
Terry
20/06/2022
Having to park car away from property.
Photos of front of property looked that parking was possible at the front.
Cost of property and cleaning fee with no parking too high.Good holiday shame no parking at the property.
Malcolm
03/06/2022
Had a great time. Felt at home in this well appointed property, not least because of the pleasant environs where we could walk into town via either street or country park. Ceramic hob was a challenge, but got there in the end using instruction book provided. Parking in streets opposite was not the issue i thought it might be. Very responsive team responded promptly enquiries.
Claire
06/05/2022
Our second stay at Gill Street and we enjoyed it just as much. Fantastic quiet location with the woods on your doorstep and the beach and cliffs a short stroll away.
Lovely welcome gift basket waiting for us on arrival.
Super clean and uncluttered.
Extra fast heating when needed and luxury bathroom to rejuvenate in.
Large lounge to relax in after a meal in the beautiful kitchen under the large glass roof.
Wonderful.
Mandy
25/04/2022
We enjoyed our (Email hidden by Airbnb) fortable beds, lovely welcome pack... only trouble was the speed of the internet for our daughter who needed to do something for work... beautiful decor & a fantastic bathroom with lots of hot water... a lovely location too, with a short walk into town & down to the coast... we would recommend this as a place to stay
John
19/04/2022
Great location - quiet yet convenient. Very clean well equipped holiday home. Highly recommended and we would happily return.
Scott
14/03/2022
Great house, great location.
Cath
03/01/2022
Exceptionally clean and tastefully decorated throughout. Very comfortable living areas and large bathroom.
great location, short work to beach and attractions.
felt very homely. great price
Every room is very comfortable
Stephanie
22/11/2021
the property was exceptionally clean and had everything we could have needed.
Nothing. Everything was great.
Hannah
28/10/2021
Hannah
25/10/2021
We loved this place. The house is fantastic, in a great location. All the extra little touches just made it perfect. We would stay here again.
Denise
16/10/2021
It was such a beautiful house that had loads of lovely touches and the welcome pack was so thoughtful
Nothing.
Colin
08/10/2021
Excellent accommodation, very clean, very quiet, perfect.
Lizzie
28/09/2021
A pristine property with everything you need to explore saltburn and the North Yorkshire moors
Claire
18/09/2021
Expect this property to be even better than the listing. It is first class. Super stylish, wonderful features, extremely clean. The bathroom was amazing with a wet room shower and awesome free standing bath. Little touches of toiletries felt like a 5 star hotel. The towels and linens were again if luxury quality. The bed was so comfy and lots of storage space. The kitchen area was beautiful with different lighting combos available to enjoy. The entire house smelt fresh and felt airy and clean. Heating was super quick and no issues with anything. The hosts are local and extremely efficient and friendly.
The welcome gift bowl was a lovely touch on arrival too.
Bring slippers as the house has wooden floors but also beautiful cream carpeting.
Kevin
02/09/2021
"Stay Yorkshire" the agents along with the owners of this property have managed to turn a 5 star review into a 1 star review, I only wish I could give them zero!
The house is beautiful and welcoming, a nice place to stay as well as hang out with your family, WiFi, smart TV to watch Netflix etc, great kitchen and even a Nespresso machine. Comfy beds and a lovely bathroom.

The only niggles with the stay would be it would be nice to be able to close the front door without having to lock it every time, just a latch would be handy. A lock on the bathroom door (more later) so my step daughters don't stumble on while I'm doing my ablutions is also a basic in any home.

We did have a couple of tiny issues in the house, a nail popped up through the master bedroom floorboard cutting my foot as we were getting ready to checkout, I reported this to STAY and they said I should have reported it at the time and they would have come around and fixed it. No "are you okay" ... NO "I need to record this in an accident book" (as required by law).. not even an apology that it had happened. And the same response to the fact that one of my daughters managed to flick the old bakelite lock on the "OUTSIDE" of the bathroom door (no seriously they have a lock on the OUTSIDE of the bathroom door) locking me inside. It was so stiff that my wife couldn't unlock it and we had to wait for a friend staying at the other side of Saltburn to come and unlock it and let me out. Again STAYs response was you should have lat us know.

Even with these little issues this would have still have been a 5 star review.

As a regional manager for a hotel company, I know the pressure housekeepers are under so as we cleared our belongings we also stripped the beds, left all towels in the bath, left the bin lids off ready for new bags, and cleaned down all surfaces.. probably more than most guests would do.

So fast forward 48hours when STAY on behalf of the owners call me to ask if we'd been smoking in the property.. I'm doubtful that my 9 or 11 yr old step daughters have suddenly started smoking, my better half has never smoked and I had my last cigarette in 1998. He said he wasn't accusing us, but that is exactly what he was doing, otherwise why bother with the call?
I wonder if the owner has considered that they were burning things in the neighbours back garden? A totally different smell from cigarette smoke!
But this chap went on again and again about us smoking, and that he wasn't accusing us, "maybe it was someone we had over" , like I would notice someone smoking??? And other than the "toilet rescue Saga" nobody came over!
He finished his diatribe with "The owner would have you back to stay, but would like to reinforce the 'no smoking' policy" .... Well how very nice of them.. firstly no need to remind us of a policy that doesn't matter to a family of non smokers, and thanks, but it's now highly unlikely I'll be staying or giving you my hard earned cash again

A great stay that they managed to ruin by leaving a sour taste in our mouths

AVOID
Megan
30/08/2021
Lovely spacious house, well equipped with all the things you need. We had a fabulous stay, short walk to the beach/town, really nice space to come back to for chilled out evenings watching a movie and playing cards. Well furnished kitchen for cooking for the four of us. Easy communication with Stay, would recommend.
Macdonald
27/08/2021
Very comfortable and stylish with everything hi g you might need.
Providing an optional stair gate would be good for young children
Matthew
21/08/2021
1 Gill Street is a very pleasant and comfortable property with great amenities, just as described. It's in a great location for an easy walk into Saltburn town centre and on to the beach. Beds were very comfortable, the shower was powerful and hot, the kitchen was full of everything you would need. It all made for a great holiday. Saltburn itself is a delightful town full of character and we will definitely be back. Lots to do in the wider North Yorkshire and Teesside area too. Check in was simple and the host was proactive and helpful.
Wilson
07/08/2021
Great location, quiet but only 10 mins from restaurants and a few more mins to beach. Beautiful property, very clean and well equipped.
No parking at property but literally 5 metres to on road parking and we never had a problem.
Little outside space but we were aware of this when booking and it wasn't an issue.
Simon
17/07/2021
Beautiful property in a an ideal location for exploring the local area. Close to beach and shops. Extremely clean and well equipped, with great attention to detail. This is a property we will definitely return to.
Angie
05/07/2021
This was a really lovely base for our three night stay in Saltburn. The house is in a quiet neighbourhood and parking is no problem at all. The house is light and bright, spacious and comfortable, with a well equipped kitchen. A few welcoming items were appreciated (milk, coffee pods, savoury biscuits and fizzy drink). The bathroom is especially nice, with a wet room shower and big old fashioned bath which was surprisingly great, plus a big sink and lovely toiletries. We loved it and would definitely come back here. The company who manages the house are very friendly and efficient, and if there were ever any problems, I am sure they would be able to help straight away.
John
02/07/2021
The kitchen and bathroom spec are very high end.
An absolutely stunning property in a fabulous location for exploring this area.
Xue
01/07/2021
Everything! Very clean, quiet place to stay. Good facilities, get everything you needs. Love the decorations!
Nothing
Jenny
13/06/2021
Laura
23/05/2021
Great place for exploring the area. Lovely and clean and well equipped
Anon07
18/05/2021
Where to begin. There was plenty of room inside and two small outside areas. The house is in a private and hence a quiet location - the nearby railway line seemed not to intrude with few trains being heard.
Everything we might need seemed to have been thought of. As well as additional touches to enhance the stay - eg. a small vase of fresh (wild) flowers; welcome basket in the kitchen, indoor slippers. A really comfortable house, beautifully presented and maintained for guests.
There was little not to like. Not being able to park directly outside could be an issue but we were able to park on the adjacent street/s as suggested - and to park outside to load/unload when we arrived & were leaving.
Having asked for a later checkout time without a definite response being received, the very last part of the stay was less smooth than it could have been. Although cleaning staff were as helpful as they could be, we felt we had caused a delay to them which could have been avoided.
Samuel
14/05/2021
Stunning house in a private location. Great space to relax.
Kevin
10/05/2021
This is a lovely terraced house with a nice kitchen/dining/living arrangement in a quiet cul-de-sac. We will stay again and recommend to friends along with the amenities in the area which are great. Parking is not an issue on the street near the house as area is quiet with no issues.
Mark
22/04/2021
Clean, modern, nice decor. It's in a nice part of Saltburn.
There's no outside seating area. It could do with a bench out the front. Lack of outdoor space let's in down but otherwise excellent.
Rachel
01/11/2020
Beautifully done and well laid out house with everything we needed for a weekend by the sea.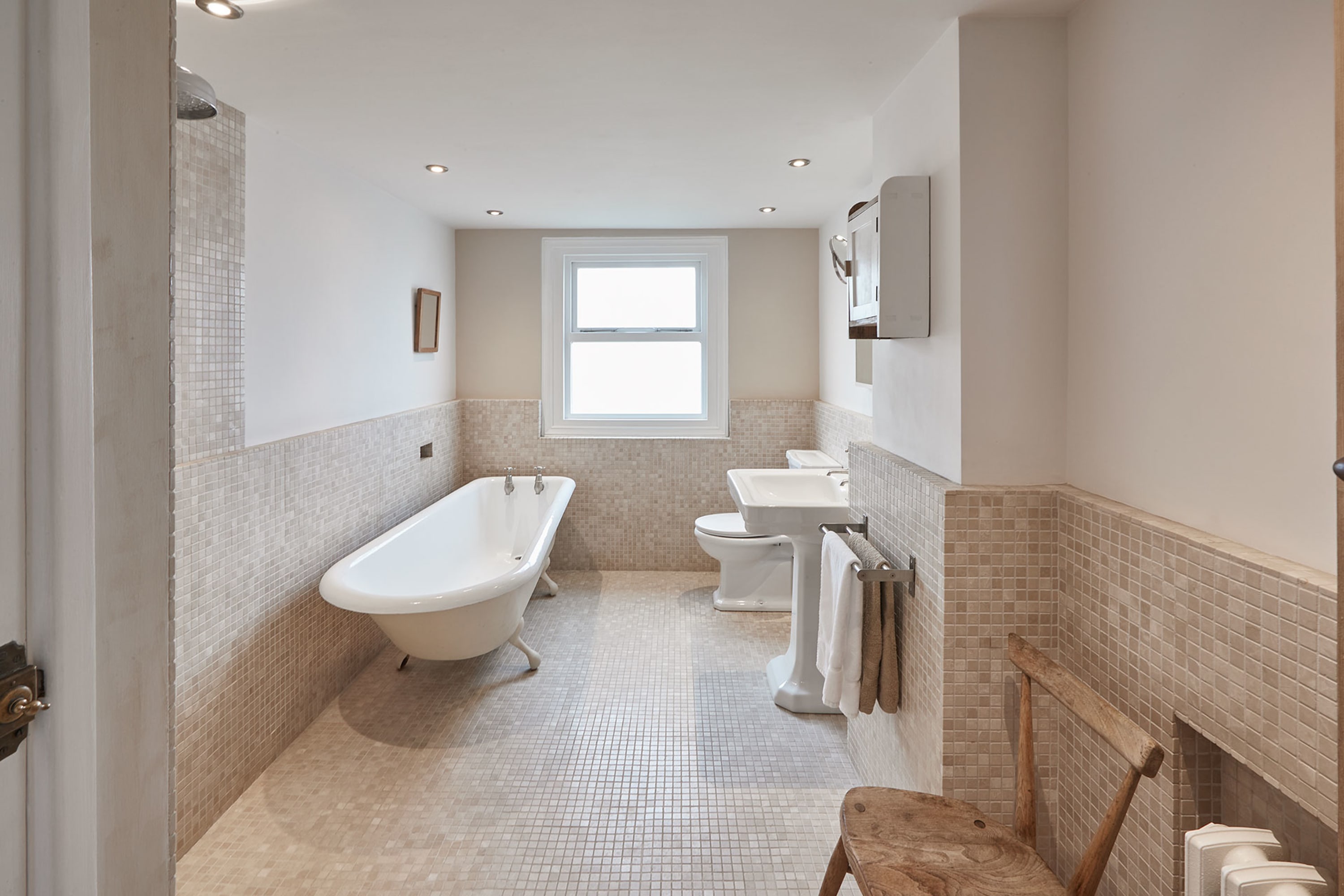 Home Truths
No.1 @ Gill Street doesn't have on site parking. Guests are politely asked to park nearby and enter on foot.
The property doesn't have a ground floor WC but it does have a spacious family bathroom upstairs.
Similar Properties in the area