The perfect romantic retreat for two, Staffordshire Hideaway provides a luxury base when exploring North Yorkshire. If you're looking for a getaway on the coast, this recently renovated holiday home will certainly tick all of the right boxes. Escape to Whitby and enjoy a well-deserved relaxing break by the sea.
Trip Details
Property Highlight #1
Dog Friendly
You're welcome to bring your dog along for your stay at Staffordshire Hideaway as the property is dog friendly.
Property Highlight #2
Located in the Heart of Whitby
Just a few steps from the famous Flowergate, you'll be perfectly placed to enjoy everything Whitby has to offer.
Property Highlight #3
Brand New for 2020
This stylish property has been fully refurbished to the highest standard.
The Space
Upon entering Staffordshire Hideaway, you'll be welcomed into a bright and airy open plan kitchen, living and dining space. White walls, light wood flooring and spotlights create a clean and modern look. Staffordshire Hideaway does however keep its character with original wooden beams in the ceiling and a quirky room layout.

The perfect place to retreat after a full day of exploring Whitby, the living area provides a relaxing escape. Take a seat on the modern grey sofa and turn on the flat screen TV to keep up with your favourite shows on Freeview. Perfectly styled, the living area has neutral coloured cushions, a wooden coffee table and a metal side table with a faux plant.

Also sharing this open plan space is the kitchen and dining area. Ultra stylish in design, the kitchen has light grey, high shine cabinets and white worktops. You'll have everything you could need for your stay as the kitchen is fully equipped with an oven, hob, microwave, fridge, toaster, kettle, dishwasher, washing machine and dryer. There is also the added luxury of a coffee machine so you can enjoy a delicious coffee each morning.

The dining area includes a white dining table and light wood dining chairs with woven detailing. A round, Jute rug and a metal floor lamp ties the look together and creates a cosy feel.

Head to the bedroom and you'll find a luxury space with plenty of style. You'll enjoy your nights sleep at Staffordshire Hideaway as the king size bed boasts premium bedding and linens. Pops of navy are added through the soft furnishings complementing the nude coloured headboard and light walls. The space is complete with matching bedside tables and a black metal clothes stand. Please note the king size bed can be split into two single beds if this would be more suitable for your stay.

The bathroom features a large walk in shower, a vanity unit with basin and a WC. Recently refurbished, it has tiled walls, dark wood effect flooring and a light up mirror.

Outside there is a cosy decking space with seating for two. Ideal for a morning coffee in the sunshine or an evening tipple as night draws closer, this is an added bonus in the heart of Whitby.
Neighborhood
Staffordshire Hideaway is located on the iconic Flowergate, in the centre of Whitby. You will find the flurry of shops, restaurants and bars just a few steps from the front door.

The Blue Flag West Cliff beach and promenade is just a 5-minute walk from the holiday home. The famous Trenchers is nearby where you can try traditional Whitby fish and chips! On Pier Road, you'll find nostalgic arcades which are fun for all ages..

The opposite side of Whitby is full of narrow, medieval streets dotted with boutiques and pubs. Sample the catch of the day in one of the fish restaurants or visit one of the traditional sweet shops for all your candy needs. Climb the famous 199 steps up to the Church of Saint Mary and the renowned ruined Whitby Abbey, which was the inspiration for Bram Stoker's gothic novel 'Dracula'.

Step outside of Whitby and you'll uncover a haven of woodland and moorland. Whitby forms part of the North York Moors National Park so it's the perfect place for long walks.
Getting Around
Staffordshire Hideaway is located in the centre of Whitby so the town can easily be explored on foot.

Whitby train station is just a short 10-minute walk away so villages and towns along the North Yorkshire coast can easily be reached via rail. There's also a taxi rank in close proximity to the train station.

There are plenty of bus routes throughout Whitby. Hop on the X4 and you can visit beautiful coastal villages like Sandsend, Runswick Bay and Staithes. The X93 travels along the coast to Scarborough. The 95 route features plenty of quaint villages, such as Grosmont and Lealholm.
Bed linens
Coffee maker
Cookware
Dishes and silverware
Family/kid friendly
First aid kit
Free parking on street
Hangers
Hair dryer
Wireless Internet
Kettle
Kitchen
Laptop friendly workspace
Microwave
Oven
Shampoo
Suitable for infants (under 2 years)
Suitable for children (2-12 years)
Toaster
Towels provided
Patio or balcony
Heating
Iron
Refrigerator
Stove
TV
Washer
Dryer
Dishwasher
Smoke detector
Private entrance
Essentials
Hot water
Internet
Carbon monoxide detector
Pets allowed
Guests have access to the full property. The keys to the property are accessed via a secure key safe and full details will be provided shortly before your arrival date.

We provide a parking scratch card for your stay which gives you free parking in the W zones in Whitby. Additional free parking can be found nearby, and full details will be sent to you before check in.
Check-in: 16:00
Checkout: 12:00
From the guestbook
4.52
(58 Reviews)
Debbie
01/08/2022
Great little place with everything we needed for an overnight stay. Could have easily stayed a few days here. Location was super Central, 10 mins walk to the beach and about the same up to the Abbey.
Greg
25/07/2022
Fantastic modern place and great location!
Ashley
25/07/2022
Olivia
18/07/2022
Absolutely fantastic little apartment in the centre of Whitby. Spotlessly clean and well equipped. The location is great for exploring the town and close to shops and pubs etc. I will definitely be booking to stay again soon.
Angela
17/07/2022
location, very well equipped & really modern.
just noisy upstairs but didn't spoil our time.
Gavin
15/07/2022
Good location and well finished
Microwave didn't work, tv aerial had no reception, when you arrive you have to write your car registration on the parking permit but there is no pen. That was nothing compared to when I went to my car on the final day to go home I found it had been bumped into an vandalised, it was covered in scratches where someone had dragged something over it and the back bumper had blue paint marks and gouges down the side. This isn't the property owners fault but if you have an expensive car and plan on staying here just warning you. It's going to cost close to £1000 to get my car paint back to the standard it was.
Michael
11/07/2022
location, all mod cons. quiet and peaceful at night as tucked away from all the hustle and bustle.
parking near by can be a pain. the smoke alarms are far too sensitive.
Sue
23/06/2022
We stayed here with our puppy and we all had a lovely time. The location was excellent, within minutes' walking distance to main attractions and waterfront. Beautiful surroundings down a pretty alleyway and courtyard. Lots of amenities and everything you need close by. Spotlessly clean, very well equipped and some milk left in the fridge which was very much appreciated after a long journey. Hosts are very quick to respond and sort any queries or issues.

Worth noting that the bed is very firm and made up of two single beds, which may be uncomfortable for some.

Overall a wonderful and enjoyable stay
Donna
16/06/2022
Lovely clean place to stay, great location.
Louise
06/06/2022
Lovely and clean nice and warm apart from noise above
Clean
Megan
29/05/2022
Really great location and lovely property overall.
Christian
19/04/2022
very clean and tidy, lovely location and great value for what your getting. Highly recommend.
Emily
17/04/2022
Sammi
12/04/2022
Absolutely lovely clean modern everything was there that you need even down to tea coffee sugar even a pint if milk
Nothing
Shelley
08/03/2022
Ideal location, comfortable apartment.
Sound proofing regarding flat above was not good - footsteps were very loud, and you could hear the person above snoring!
Constant email chasing regarding verification of details was also annoying- this was completed very early on but I continued to receive chasers right up until the day before our arrival. This was despite having phoned on 3 occasions too!
Nicole
03/03/2022
Clean, modern, warm, well equipped- home from home
Rebecca
23/02/2022
Excellent location! It was really clean and the decor is modern. There are some smalls steps up to it but not an issue for us. We had to park around a 2 minute walk away but I think this would be the same with most other places to stay in Whitby. If I went back to Whitby I would definitely chose this apartment again.
Lisalatics70
16/02/2022
Excellent place to stay. The apartment was beautiful. Everything that you needed was there. Excellent location. Would definitely recommend this place.
Sophie
13/02/2022
amazing little gem. clean and so stylish! had everything we needed. we loved it so much, we were gutted to leave
Clair
20/01/2022
Pleasant stay, great location.
Nice and modern.
WiFi continued to drop out during the 2 nights stay, bed are really firm and uncomfortable.
No batteries in TV remote on arrival, didn't arrive until 1900hrs on a Friday night when all the nearby shops were closed, Host & Stay advised I went out and bought some ??
Debbie
05/01/2022
Nice, pleasant, location great.
Hassled by company.
Darren
31/12/2021
Location was really good and so was the apartment couldn't fault it
Paul
06/12/2021
Stephanie
30/11/2021
Everything could not fault
Nothing
Lisa
27/11/2021
The location was ideal in the centre of town. The hideaway was spotless with everything you could require during your stay.
Parking was not easy but there is a car park just round the corner if no zone spaces available.
Mrs
12/11/2021
Beautiful modern property, very clean, everything you need.
the bed was very hard and you could feel every spring, the noise from upstairs you could even hear them talking stomping about at 5 in the morning, didn't get much sleep.
Colin
02/11/2021
Robbie
02/11/2021
Callum
29/10/2021
Great place. Location was amazing the only slight issue was finding a parking space was really hard but we did go in the school holidays. One thing to note is that the bed isn't actually a double bed and is two single mattresses together which might bother some people. We still had a good enough sleep.
Tracy
13/10/2021
Beautiful space, spotlessly clean, very comfortable and the shower was superb,also quiet. This was an absolute spot on place to stay and it recharged us both, which like alot of people, we needed.
There was nothing to dislike at all.
Lewis
03/10/2021
Clean, modern and cosy. All the necessary facilities. Nice toiletries and lovely shower.
Heating didn't seem to work from the thermostat so I had to manually turn the boiler on, might need looking at. Bed was 2 singles stuck together which made it a little uncomfortable but no big deal.
Sharon
01/10/2021
Brilliant location of Staffordshire Hideaway apartment. Clean and all the amenities that you require for your stay. The parking in the W Zones was effortless and just round the corner. Basically a lovely place to stay and near to everything for Whitby.
Stephen
14/09/2021
The apartment was very nice and everything was there for your comfort. But the mattress and the noise above failed its expectations of the property.
The bed was very disappointing , you could feel the springs in the mattress. My wife and I could not sleep for the 4 nights we were there we had to sleep on the top of the quilt so we could not feel the springs in the mattress digging into us. The most important thing is a comfy bed(not on this bed). Also we could hear the people above walking around at all hours and this was also unpleasant.
William
06/09/2021
No breakfast, as self catering. Property and facilities excellent.
Awkward and uneven access stairs to enter property. Could do with a hand-rail.pr
Jackie
29/08/2021
Loved it wish we could have stayed longer x
Ben
26/08/2021
The apartment was fully equipped with cooking utensils, which was extremely welcome as often these places have a bare minimum and being able to cook like at home was wonderful.
The shower was great for both tall and short people, and the entire place felt extremely spacious.
The location was wonderful, only a five minute walk from the harbour, the beach, and the town, and it was tucked away so it felt very private.
Staff were responsive and helpful with any queries we had.
Enough space in the fridge to keep us going, and close by to several grocery shops to stock up when necessary.
The nespresso machine has a smll leak which doesn't affect its performance, it just means that every so often a small puddle forms on the counter top under it and needs to be wiped up.
It can be a little warm even with the windows open, and to get airflow through the bedroom is difficult.
Anna
22/08/2021
We have been to Whitby 4 times now and love the area, but this little appartment is not value for money, in fact we felt ripped off. We ended up going home 3 days early as was so noisy and we got no sleep. We could hear every step upstairs and the quests above had a dog which barked for long periods of time. The flat appears newly refurbished and is very clean and when we booked this earlier in the year there was only 1 review available. We can see that since then other guests have mentioned the noise as well. Though the flat is nicely done up you feel like it is in a basement as the windows have no view and most are at the level of the ground. Parking was difficult, though a prepaid parking card was provided by the owners all the W zones and free zones were full all day, so if you are going at a busy time of the year, be prepared not to use your car much.
Jo
06/08/2021
Excellent location and beautiful accommodation.
Georgina H.
31/07/2021
Property was lovely, great location, clean and extremely well presented.

Amazing
Murray
23/07/2021
Apartment was modern and clean. Hosts had great communication prior to stay.

Small set of stairs at the entrance that was ok to carry a pram up but wouldn't be wheelchair accessible.

Just what we were after for our stay in Whitby, would stay here again.
Sally H.
14/07/2021
The accomodation is stunning. Well kitted out with stylish decoration and lovely furniture however, the noise from the upstairs apartment was at times unbelievably loud. Resulted in early mornings as you woke up when they woke up and then distracting through the day. Don't know if it's floor boards or lack of insulation so need to be aware and prepared.
Anthony
06/07/2021
The location was very central, we had a problem getting parked to unload, but we overcame that. The apartment has been renovated to a very high standard and was very well equipped and had a washer dryer and dish washer.The shower was excellent.
We wanted to watch the England match on the television but had problems with reception(may be due to the location)
May be due to the pandemic we thought the price was a little high as we have stayed in accommodation just as good for a lot less....
Kay
24/06/2021
The apartment was lovely! Facilities were fab! We had a really nice time and enjoyed the apartment so much! Beautifully clean and styled.
Difficult to find! We found it by chance! There is an alley way with metal gate in between shops on flower gate road. You go down the alley and it opens to a little patio and this apartment is up a few steps to the right!
Ellen
02/06/2021
Great location. Lovely apartment. Good system for entry. It had everything we needed. Free parking if you are brave. Lots of good facilities to use and fully stocked apartment with everything we needed.
It was pricey but we did go at peak time. There is another apartment above it and at times it sounds like they are in the same apartment but we were hardly there so didn't bother us too much. We couldn't work out how to use the WiFi because the instructions told us to join a network that didn't exist. We preferred to pay for parking than try and use the ones near the apartment as the roads are quite tight.
Jo
31/05/2021
Lovely little hideaway right in Whitby centre.
Everything as expected and the little outside space was a real sun trap - a treat in the morning.
Have stayed in more personal Airbnb places but this was clean and comfortable.
Anonymous
28/05/2021
Carpenter
25/05/2021
Everything about the apartment was spot on
So cozy for a romantic weekend
Charlotte
12/05/2021
Great location, lovely accommodation & a great time .. Thankyou
Dominic
07/05/2021
Perfect little hideaway for a weekend away. Whilst it was tucked away and quaint, it felt spacious inside which makes a pleasant change from cramped properties. Very easy check in and messages explained everything thoroughly. I'd happily stay again!
Debbie
06/05/2021
Great, modern, clean apartment in a fantastic location in Whitby. Everything is within walking distance from the apartment and it's a great place to return to after a long day walking on the Moors or on the beach!
Umer
29/12/2020
A great stylish place to stay!
Helen
26/11/2020
Great Location, near to harbour. Lovely and comfortable, the weather wasn't very good so it was really nice to be able to curl up and watch a film.
It is hard to find the apartment, we had the help of some locals who had lived there years and didn't know the alley existed. Some more detailed information would help.
John P.
30/10/2020
The place is Immaculately decorated and very well appointed with high quality appliances.
The problem with the property is that it feels that there has been no soundproofing between the apartment and the upstairs accommodation. We are assuming that has hardwood floors. Children running and jumping and furniture moving - all in a normal way I'm sure - was incredibly noisy when you are sitting downstairs in the place we rented.
Julie
29/10/2020
Well done cosy cottage. Situated in the heart of Whitby.
The only problem for us was there seemed to be no sound insulation from the cottage above. It was very noisy, you could hear every footstep, voices, and the kids running round constantly.
Lynne E.
19/10/2020
The property was located in a great place. Easy walking distance to everything. Newly renovated and perfect for a short stay in Whitby
Matthew
18/10/2020
Very clean, stylish apartment. Good location.
Rebekah
08/10/2020
Fantastic location, 5 min walk to the sea front. Lovely stylish apartment with everything you could need.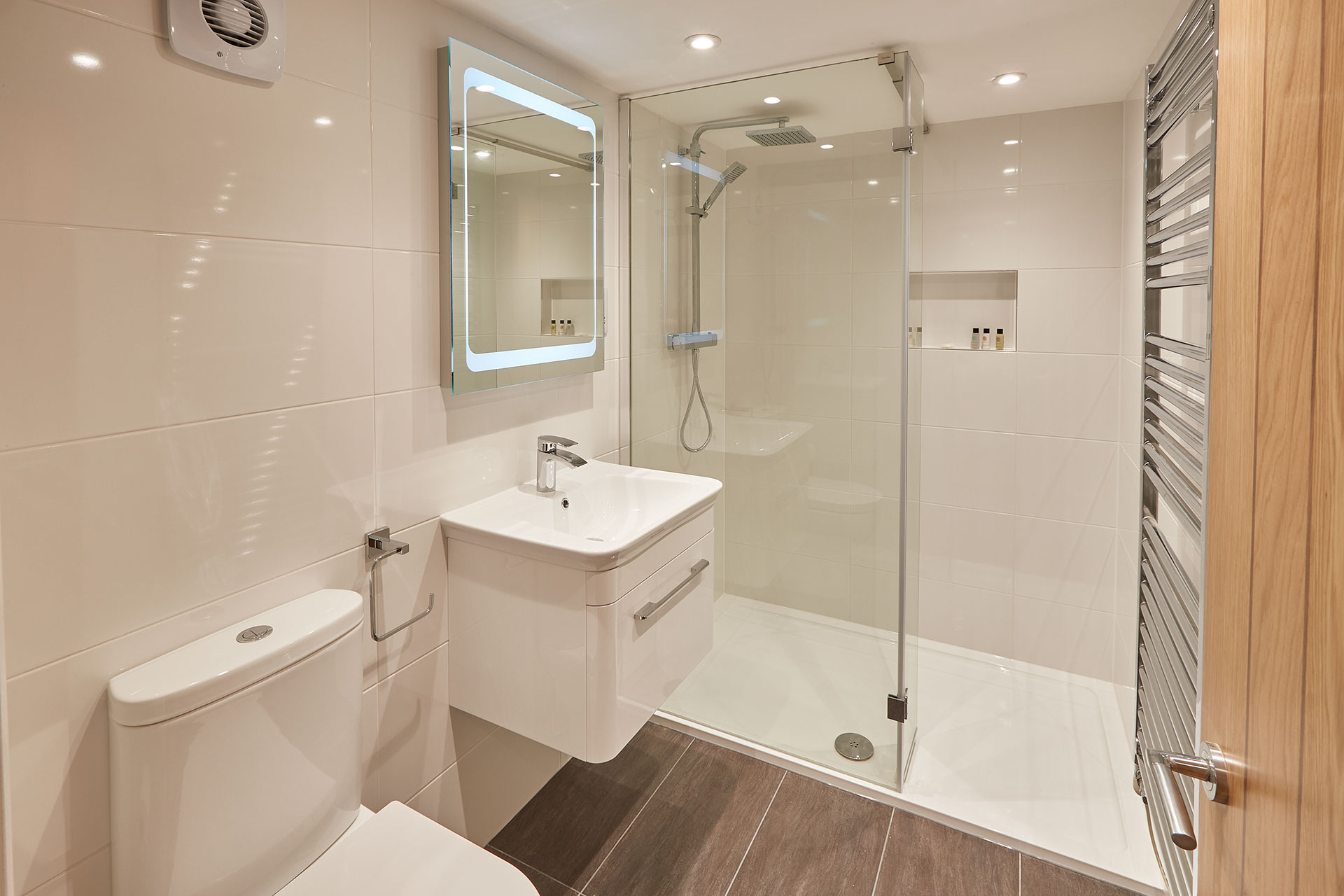 Home Truths
Free parking is provided but this will be a few moments from the property.
Staffordshire Hideaway is located on a narrow communal passage just off Whitby's central Flowergate. It can be hard to miss so look out for Staffordshire Place.
The property doesn't have a bathtub but it does benefit from the large walk in shower.
Similar Properties in the area
Razorbill Cottage @ The Grange
Razorbill Cottage @ The Grange
Cosy Coastal @ Golden Lion Apartments
Cosy Coastal @ Golden Lion Apartments