Pearl House is a brand new holiday home for August 2020! Located on a quiet residential street in the charming town of Saltburn-by-the-Sea, the house is perfectly situated between the seafront and popular restaurants, bars and shops. Lovingly renovated, the two-bedroom, two-bathroom property sleeps up to 4 guests making it the perfect place to rest after exploring the North Yorkshire coast with family and friends.
Trip Details
Property Highlight #1
Dog Friendly Retreat
Pearl House is dog friendly so pups can enjoy a coastal getaway with the family!
Property Highlight #2
Outdoor Space
The property is complete with a patio and outdoor dining area making it perfect for al fresco dining.
Property Highlight #3
Located on a Quiet Residential Street
The house is perfectly situated between the seafront and popular restaurants, bars and shops in the Victorian Spa town of Saltburn-by-the-Sea.
The Space
This deceptively spacious house includes private parking and an enclosed rear garden. Just a few steps from the sea, Pearl House is a beautiful seaside holiday home ideal for family or friends to get together.

The ground floor of Pearl House features an open plan living and dining area, large modern kitchen and twin bedroom.

The comfortable leather sofas and armchair surround the flatscreen TV and fireplace in the living room. The large bay window looks out over the quiet street and floods the room with light. The space is finished with artwork featuring local landscapes and soft furnishings to give a real sense of home.

The dining area features an oval, extendable table with stylish teal blue and mustard yellow dining chairs. The ideal spot for socialising, you can enjoy a home cooked meal or get ready for games night.

The fitted kitchen is well equipped with modern appliances so you will have everything you could need for your short break or a longer stay. With luxuries such as a dishwasher, washer / dryer and coffee machine, you can feel right at home at Pearl House.

A comfortable twin room can be found to the rear of the ground floor. With matching, studded headboard beds, luxurious mattresses and a beautiful wooden floor this room is stylish and classic. Opening out on to the garden, you can let the fresh sea air flood in while you rest.

The master bedroom and en-suite shower room can be found on the first floor. The kingsize bed with upholstered headboard takes centre stage in this bedroom. With plush grey carpets and luxurious, fabric soft furnishings this room is a peaceful space to escape to at the end of a busy day.

The beds and mattresses at Pearl House were carefully chosen to provide the perfect nights sleep for our guests. The crisp white, quality linen and Otty Hybrid Mattresses are the perfect combination.

For those beautiful crisp mornings and long summer evenings, you can enjoy the private decked area in the garden. This fully enclosed space is perfect for al-fresco dining. The property also benefits from private parking, accessed through an alleyway to the rear of the property.

If you are looking for a cosy retreat in a beautiful seaside location, you can enjoy been just a few steps from sea views, woodland walks, restaurants, bars and all amenities when you stay at Pearl House.
Neighborhood
Pearl House is located in the charming Victorian Spa town of Saltburn-by-the-Sea on the North Yorkshire coast.

The house is located just a few steps from the town centre. Here you'll find restaurants, cafes, bars and independent shops. Take the oldest functioning cliff lift in the UK down to the promenade and you'll arrive at the 208-metre pier which stretches out into the sea. The long sandy shores are overlooked by colourful boutique beach huts and high cliffs tower in the distance.

Saltburn has plenty of beautiful walks too. The Valley Gardens are a maze of paths and tracks which wind through the flowers and woodland. If you want to explore further, The Cleveland Way National Trail is over 100 miles long and the lovely Saltburn is featured. If you fancy a 17.5 mile jaunt, start at Saltburn and walk your way to Sandsend. This walk is a great way to explore the North Yorkshire coastline and the views are beautiful!
Getting Around
Pearl House is within 30 minutes' drive time of Staithes, Whitby, Middlesbrough and the North Yorkshire Moors.

Saltburn Train Station is a 5-minute walk away and has routes to Longbeck, Redcar, Middlesbrough and Darlington with connecting trains to Newcastle, York, Leeds, Manchester and London.
Bathtub
Bed linens
Carbon monoxide detector
TV
Stove
Refrigerator
Iron
Heating
Washer
Kettle
Kitchen
Laptop friendly workspace
Microwave
Oven
Coffee maker
Cookware
Garden or backyard
Flat smooth pathway to front door
Free parking on street
First aid kit
Dishes and silverware
Fire extinguisher
Pets allowed
Private entrance
Wireless Internet
Toaster
Smoke detector
Hair dryer
Patio or balcony
Towels provided
Essentials
Suitable for children (2-12 years)
Guests have access to the full property. The keys to the property are accessed via a secure key safe and full details will be provided shortly before your arrival date.

There is on-street free parking directly outside the property.
Check-in: 15:00
Checkout: 10:00
From the guestbook
4.83
(36 Reviews)
Sally F.
27/07/2022
Just spent a week at Pearl House with my family and little dog.
This property is so well set out and comfortable.
Could only give 5 stars.
Everything from the cleanliness to the furnishings was spot on.
Enclosed garden a must when travelling with a dog.
The owner Helen is on hand to help with any issues.
Close to all amenities and the beach.
Pearl House is a gem to find,
Will definitely be returning.
Mark
27/07/2022
Marcel
09/06/2022
Great place, a short walk from the beach, not a bad word to say ?
Linda
26/05/2022
Easy access to all amenities
Mike
20/05/2022
Very stylish accommodation, excellent location.
Brian
25/04/2022
Very clean, modern,comfortable..every thing you could possibly need for a self-catering break was there. Even snacks and a bottle of wine and a couple of beers and flowers on arrival. The Best ...communication with numbers ect if required very well done every one thank you,Brian, Rosie, Janice and Steve.
We liked everything
Carol
22/04/2022
The cleanliness of the property! All the amenities were excellent!!
Parking was a bit hit and miss
Anna
17/04/2022
We absolutely loved our short stay at this property. Super location for the beach and local shops and cafes. Wonderfully clean and comfortable with everything we needed and actually more spacious than we expected with a lovely back yard for sitting in the sun after a fun day at the beach. Great host, would recommend.
Paul
01/03/2022
We really enjoyed our stay at Pearl House. It is a beautiful, modern, well equipped home in a fantastic location. Our hosts communication was fantastic, the tips on local walks and news were really helpful and the welcome treats were unexpected and very much appreciated by us and our pooch. Back yard is lovely and secure for the dog to wander around and take in the seaside air! We were all very sad to leave but will definitely be back again soon!!
Carol
18/02/2022
So well equipped, stylish, and perfect location
No complaints at all
Rosie
07/02/2022
The house was excellent in every way ! Immaculate condition, exceptionally well equipped with quality furniture and kitchen equipment, beautifully presented. The bathrooms had fantastic high pressure showers. The owners had paid great attention to detail there absolutely everything you may need, even down to a sewing kit !
The location was central to the town and attractions.
The welcome gifts were very generous.
I would recommend this House and Host.
Clare
01/12/2021
Mollie
31/10/2021
well furnished, lots of little touches to make the trip special eg , treats / box of goodies for the dogs, human treats and drinks for guests, coffee machine with pods
this made our stay very homely
on the while there were no issues for us as we had an amazing time
we did need to buy our own dishwasher tablets and couldn't not find the remote for the fire place however this did not impact our stay at all and we're happy with the temperature the heating was set at and we're happy to buy our own tablets
Michelle
16/10/2021
Christina
08/10/2021
Linda
03/10/2021
Very comfortable self catering property in a good location for the sea
Julie
26/09/2021
Lovely inside and everything there with attention to detail by the owners.
Nothing really
Paul
25/09/2021
great standard of accommodation, well laid out and everything needed was on hand. excellent base to explore the area. all round, very comfortable.
Mark
17/09/2021
Brendan
10/09/2021
Location, facilities,has everything you need and the coffee machine!!!
Nothing.
Laura
19/08/2021
Lisa
14/08/2021
Pearl house offers everything you could possibly want in a fabulous home from home. Exceptional clean fantastic decor and sumptuously comfortable
Absolutely nothing
Helen
25/07/2021
Michelle
12/07/2021
Such a lovely place! Done to a really high standard. All the finishing touches had been thought of and we really appreciated it.
Ten mins from the beach, 2 mins from the town and restaurant. Huge living room and dining room table / area, lovely big kitchen and large back yard for our dogs and us to sit in. Really useful little porch for boots and coats.
Highly recommend. Lots of fab information in the welcome book. Lovely owners and hosts.
I stayed with my mum, partner, step son and our dogs and it was the perfect location. We will be coming back! Book it now!
Elaine
02/07/2021
Really enjoyed our stay. A lovely house and were very comfortable. Had everything we needed. The flowers and goody basket and drinks were a lovely surprise. Excellent location close to shops and lovely restaurants. Quiet area.
Helen
11/05/2021
The house was very comfortable, the hosts had left little treats and welcome notes which made us feel at home. They also made sure that there was everything we needed for self catering.
We liked everything no negative comments to make
Anonymous
03/05/2021
Hayley
30/04/2021
Fantastic location. Close to the beach, the station and the town centre.
Contemporary smart deco with some friendly touches. Thank you for the flowers and drinks for our arrival.
Facilities well looked after and the appliances modern and functional. We did struggle to get the hob to work properly though!
Great stay, we found our whole experience very relaxing.
Sasha
18/04/2021
What a lovely house, in an excellent location with a lovely owner who couldn't have been more accommodating or helpful. Shame that there is an agency involved who were so unhelpful.
Carole
29/10/2020
This property is beautiful and sheer enjoyment from the moment you walk in. The kitchen was well equipped, bathrooms relaxing & indulgent . The lounge is comfortable with extra touches making this a fabulous choice for a family stay
Jean
20/10/2020
The Tardis is very spacious, furnished to a high standard and well equipped. it is in an ideal position with the sea at the end of the street. We didnt go shopping but there is a supermarket 5 mins walk away if you need it but the town is full of wonderful local shops. Saltburn was quite a surprise with a lovely pier and lots of surfers! Would go again.
Mark D.
28/09/2020
Refurbished to a high standard and really comfortable. Walking distance to coastline, and nice cafe's and bars just around the corner. Really enjoyed our stay.
Lyndsey
18/09/2020
Felt really homely thanks to all the extra touches. Great location near the sea front.
beds are very firm- but that was literally the only thing we could find fault with!
Jane
11/09/2020
Clean, comfortable and extremely well equipped. Would go back again
Liv
28/08/2020
Beautiful clean place with all amenities you could need. Very cosy indeed and the location is terrific
Rebecca
27/08/2020
The decor and facilities are done to an exceptional standard. The house is stunning with lots of little touches which made the stay more special. Great communication and location.
Upstairs was a little dusty and the bathroom mirror was dirty but thats just being picky. Everything else was stunning and fabulous.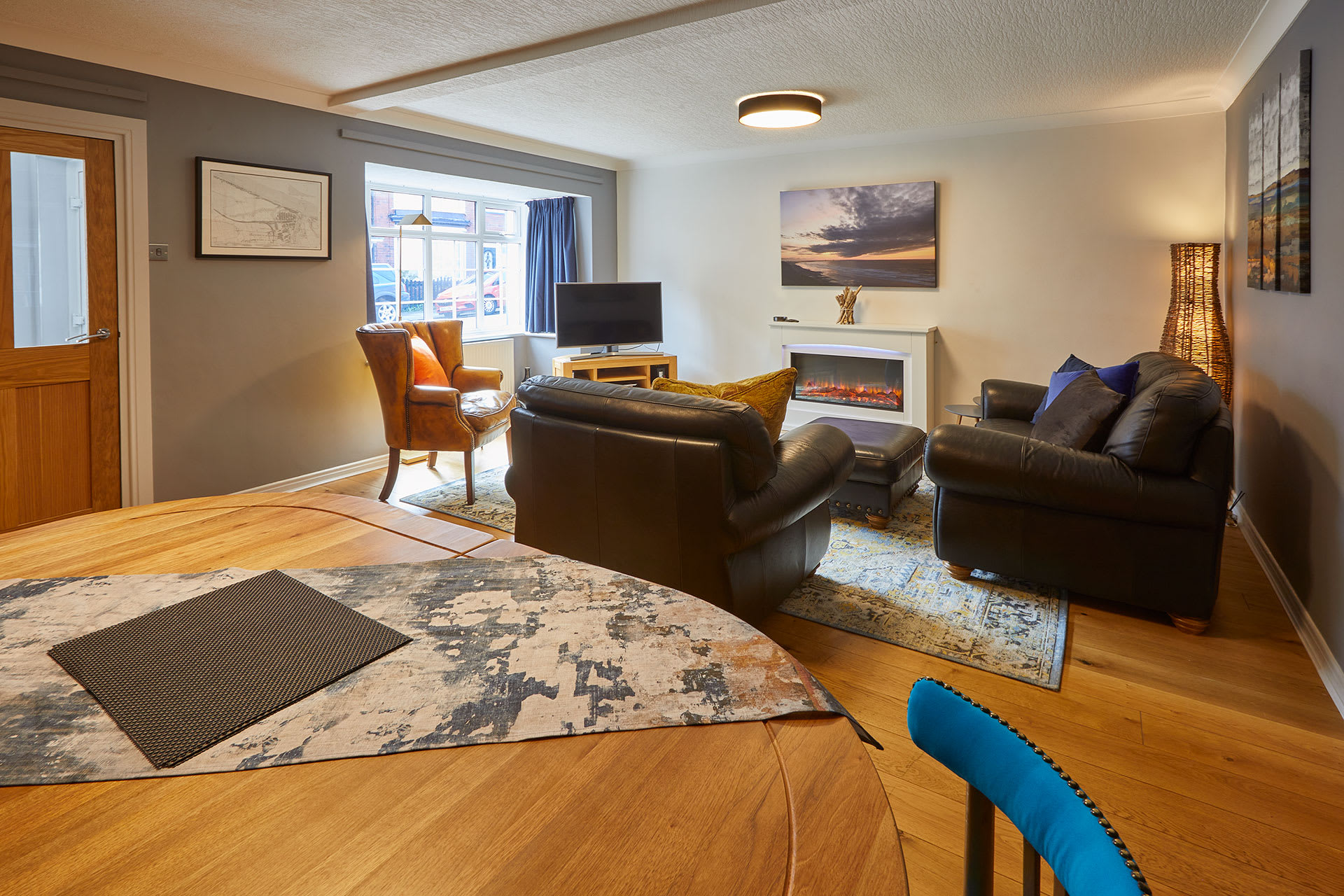 Home Truths
On site parking isn't available but you will find free on street parking directly outside the property and on the surrounding streets.
The property doesn't have a separate dining room however it does have an open plan living and dining area.
Similar Properties in the area
Cosy Coastal @ Golden Lion Apartments
Cosy Coastal @ Golden Lion Apartments
Apartment C, Cornerhouse Apartments
Apartment C, Cornerhouse Apartments