A beautiful luxury garden apartment in central Whitby, on the West Cliff, which has been lovingly decorated and furnished to offer a stylish property as a romantic retreat or lavish accommodation for friends and family.
Trip Details
Property Highlight #1
Outdoor Patio Space
The Courtyard Retreat benefits from a spacious patio with outdoor furniture.
Property Highlight #2
Dog Friendly Property
Pups are welcome at The Courtyard Retreat!
Property Highlight #3
Ground Floor Property
The Courtyard Retreat is located on the ground floor so it is ideal for those who struggle with lots of stairs.
The Space
In a great location and with the advantage of outside space, The Courtyard Retreat boasts double entrance doors leading to an open plan living area.

The sitting room with high quality furnishing and Smart TV leads to the dining area where you can enjoy meals together. A stylish kitchen is equipped with electric oven and hob, fridge with freezer compartment, dishwasher and coffee machine.

Elegant master bedroom with a king size bed, large circular bay window and built-in wardrobes, plus a luxury en-suite shower room with large shower, WC and ornate wash basin. You will also find a large single sofa bed allowing this luxury apartment to sleep up to five guests - perfect for a family getaway by the sea.

In the second bedroom you'll find a double bed and luxury en-suite with shower, WC and basin.

The enclosed courtyard garden is furnished with table and seating, perfect for relaxing and enjoying pre-dinner drinks al-fresco.

Host & Stay are committed to our owners that their homes are protected during bookings. For this reason, we require all of our guests to transfer a £250.00 Damage Deposit (subject to a £10.00 administration charge) or, to purchase an Accidental Damage Waiver for £25.00 which will cover you for up to £500.00 of accidental damage during your stay.
Neighborhood
Located only a short walk from Skinner Street, Flowergate and the harbour - you'll be spoilt for choice on where to grab that next coffee and cake, but only after experiencing one of Whitby's many award winning Fish and Chip restaurants.

Whether it's the world famous fish and chips, the history and heritage of Bram Stokers Dracula, or the 199 step climb to Whitby Abbey, Whitby will be sure to provide you with something you'll remember.
Getting Around
Whitby has fantastic transport links, with regular buses running routes south towards Scarborough and north towards Sandsend and Saltburn. The train station and bus station are both located at the harbour entrance, with the taxi rank also being in close proximity.

The beach can be reached by the Whitby Sands Cliff Lift, or you can walk down to the shore at the end of Pier St.
Cable TV
Dishwasher
Dryer
Heating
Iron
Refrigerator
Stove
TV
Washer
Bed linens
Carbon monoxide detector
Coffee maker
Cookware
Dishes and silverware
Essentials
Extra pillows and blankets
First aid kit
Garden or backyard
Hangers
Hair dryer
Hot water
Internet
Kettle
Kitchen
Laptop friendly workspace
Long term stays allowed
Microwave
Oven
Pack 'n Play/travel crib
Paid parking off premises
Patio or balcony
Pets allowed
Private entrance
Shampoo
Single level home
Smoke detector
Suitable for infants (under 2 years)
Suitable for children (2-12 years)
Toaster
Towels provided
Wireless Internet
Guests have access to the full apartment. The keys to the property are accessed via a secure key safe and full details will be provided shortly before your arrival date.

Free parking can be found nearby, and full details will be sent to you before check in.

Please note that there are steep steps from the gate to the courtyard, as well as two steps in the small bedroom which may difficult for the elderly or disabled.
Check-in: 16:00
Checkout: 10:00
From the guestbook
4.52
(121 Reviews)
Callum
26/11/2023
Fantastic apartment and value for money. Great location just a 10 minute walk to Whitby centre.
Perfect for 2 couples as it has 2 en-suite bedrooms.
Free parking out of season at the car park right outside the property.
Amazing restaurant just a stones throw from the apartment (PIZZAWEST - give it a try!!!)
Andrea
19/11/2023
Jonathan
02/11/2023
Alison
20/10/2023
Cosy, well laid out, very comfortable beds
Door handle to en suite in main bedroom is faulty- cannot be opened from inside - I got locked in!
Slight musty smell throughout due to being below ground level and no ventilation
Anonymous
14/10/2023
Beautiful decor
The en-suite from main bedroom had a horrible smell of urine to the point we didn't open the door and used the other bedroom
Maria
03/10/2023
Perfect place for our stay in Whitby. The layout of the apartment was perfect with 2 bedrooms both with their own bathroom then the communal kitchen living room in the middle. We loved the decor it was very cosy and tastefully done and had everything we could need plus was very clean. Beds and bedding were comfortable, pillows slightly lumpy but minor problem still slept well. The heating was on before we arrived via a Hive and remained nice and warm during our stay. The to had a good choice of channels including Netflix. Our dog loved exploring the place and the yard. The location was good close to the beach and a short walk to the cafes bars and shops. We really enjoyed our stay and would definitely recommend.
Minor things really. Their was an air block or something in the master bedrooms bathroom so it was intermittently making a noise. The parking was very close by at 9 pounds per day not 5 pounds, there are scratch cards that were left so you could park free but I am not sure how easy it was to find one, we just paid as didn't think it was too bad and nice to have the car close by.
Gillian
25/09/2023
On arrival the property was dirty - no clean carpets, dog biscuits in the lounge, one toilet roll, dirty toilet etc and bathroom was not clean. I rang the hosts who sent someone to clean it - it was adequate but not as good as when I originally went last year. I took lots of photos skirting boards have never been touched, couch was full of bits between the cushions and left untidy. this property needs a deep clean.
Chris
23/09/2023
We really enjoyed our short 3 night stay. The pictures capture the space and internal rooms nicely. The host provided a well equipped kitchen for self catering and the master bedroom and bathroom was a good size and had a high quality finish.
A great location and a short walk down to the centre of Whitby town and to the sea front.
A couple of things let the property down, with the general cleanliness not 5*, with many dusty areas and some marks on windows, mirrors and the TV. Sadly our last night was also disturbed in the early hours of the morning with some loud neighbours. This was the only time we heard them during our time here but put a spoiler on the stay.
The host was really informative and provided lots of information which made it easy for us.
Thanks again, we look forward to visiting Whitby in the future.
Dave
19/09/2023
Christopher
06/09/2023
Malcolm
26/08/2023
Great location and nice place for a short break.
Carol
15/08/2023
Both bedrooms had their own bathroom with heated towel rail and under floor heating. The apartment was well equipped.
One of the bedrooms was very spacious. It was nice to be on the ground floor and have a court yard. There was plenty of parking near to the property.
the second bedroom had a small double bed. There was not enough room for clothes with just a hanging rail and no drawers. Unlike the other bedroom which was fine. Nothing to do with the property but as an older couple we forgot how much of a climb it is to the west cliff. In general the property had been cleaned but a few things that had ben overlooked need addressing. The bin needs cleaning and not just a new bag putting in. There was debris of food under the table and cupboard. I even found a pair of panties that had dropped down from the clothes rail.
Amy
07/08/2023
Great location, had everything and more you needed! Perfect find
Anonymous
01/08/2023
Henry
19/07/2023
Victoria
11/07/2023
Thoughtful touches, felt like a home
There was a hole in one of the towels
Linda
19/06/2023
Paul
02/06/2023
Location was good. Furniture and facilities were good
Not at all suitable for elderly, steps from gate to Courtyard are extremely steep, don't think there was a rail to hold on to. Step down into property very high and 2 steps up to small bedroom. Even though my wife enquired. Both showers had dirty grouting and mould and dirt in and around the drainage plate. The sink in the small bedroom was blocked taking several hours to drain
Emma
30/05/2023
Linsey
29/05/2023
Beautiful apartment, and not far to the beach front. Local to everything you need by foot.
Would definitely recommend and would definitely return.
James
12/05/2023
Anna
22/04/2023
Andrew
14/04/2023
The apartment was cold. Unsure if the underfloor heating didn't seem to function. Resorted to electric heaters.
David
12/04/2023
clean good facilities
underfloor heating did not work
Ann
30/03/2023
Great location, beautiful apartment, very clean with everything you would need, tastefully decorated, very quiet and lots to do
Instructions how to work hob and live tv
Michelle
21/03/2023
Great location. Good size, it had everything you need
Access via muddy pathway
Paul
16/03/2023
Leah
04/03/2023
Claire
26/02/2023
Wendy
17/02/2023
The apartment was furnished really nice and was very accessible to everything in the area.
It wasn't that clear where to park or how to find the property.
James
16/02/2023
Location excellent
Nothing
Joe
10/02/2023
Had an amazing stay. The retreat was as described and a short walk from the beach. I would have no hesitation in going again in the future!
Antony
05/02/2023
Location was perfect for us
The lounge was very dusty
The bedroom window leaked and water ruined a book we had put there
The Parking was on street and not private as advertised
Denise
28/01/2023
Stephen
27/01/2023
Karron
18/01/2023
Paul
13/12/2022
Great location, secure courtyard for the dogs to go outside. Great to have 2 en-suite bathrooms.
2nd bedroom a little cold
Sharon
05/12/2022
very comfortable and well equipped, great location
Alexa
27/11/2022
So clean fantastic location and everything you wanted. just perfect .
Irene
22/11/2022
Lovely accommodation , luxury toiletries in bathrooms , yard for morning coffee
Susan
16/11/2022
Fabulous accommodation with a well equipped kitchen and all spotlessly clean. Great location being only 15 minutes walk to all restaurants on Whitby front. Added bonus car parking was free 1st Nov to 1st March and parked right opposite the entrance to the apartment. Would most definitely stay here again. 10 out of 10
Peter
11/10/2022
David
04/10/2022
Location facilities
The only thing as you exit the outer gate up the steps you need a hand rail
Jessica
11/09/2022
Lovely apartment in a great location
Anonymous
08/09/2022
it's clean, tidy and cozy.
it will be better if there is bin liner in the rubbish bin.
Kyle
02/09/2022
loved it will be staying again
nothing
Nicola
01/09/2022
The apartment was in a perfect location and was beautifully decorated. Everything we needed was supplied .
Paul
27/08/2022
Gorgeous property. Attention to detail was excellent. Cant wait to return.
Nothing
Jason
22/08/2022
Claire
21/08/2022
Lovely spacious appartment, beautifully decorated. Quiet location but close to everything.
The property was lovely. It was quite expensive so the only thing that could be improved is the price. That said most holiday cottages in Whitby are expensive in August
Maria
18/08/2022
David
23/07/2022
Gary
21/07/2022
Dyson
12/07/2022
Fabulous location, beautifully presented.
Nothing to dislike.
Sarah
06/07/2022
There was everything you could think you might need there
Needs a hand rail for elderly to get into property ,would not stop us stopping again
Kevin
30/06/2022
Rebecca
07/06/2022
Decor is nice and the apartment is set out well in terms of the bedrooms at either side of the apartment with private bathrooms.
The shower is great and the beds are comfy. It's also ideal that there is a court yard area for the dogs which is secure. Near the sea and there is a west cliff car park at the back of the property which is £9 per day. We didn't opt to use the scratch permits for parking as spaces were taken and it appeared a squeeze.
I have to say, the cleanliness is not upto standard. Dont look down the sides of the sofa or move the pillows on the sofa (food debris, crumbs and bobbles) so this was the down side for us. Also, the TV Is tricky to use, we weren't able to watch free view and from reading the reviews in the comments book, it appears it wasnt only us that struggled.
Elizabeth
02/06/2022
Excellent facilities and towels.
Didn't explain that the apartment was accessed to the rear of the property
Lucie
23/05/2022
very clean, easy to find, parking facilities had a fabulous weekend
Elaine
21/05/2022
fantastic apartment everything you could need, lovely enclosed yard ideal fir our 2 dogs and for sitting out enjoying pizza in the evening. the master bedroom is huge and very well presented the smaller bedroom was also lovely both with lovely ensuites.
Pauline
19/05/2022
We loved the property, very clean and well equipped .
Parking was good using the scratch cards provided.
Our only issue was
1. The water feeding the showers was not easy to adjust to the most comfortable temperature and was too hot which made showering very uncomfortable.
2. The quilt in the large bedroom was too small for the queen size bed.
Matthew
06/05/2022
Location superb could walk everywhere
Just personal preference, a lock on the inner gate
Judi
04/05/2022
The location was lovely up high above Whitby. Nice and quiet. The apartment was very comfortable with plenty of space and very nicely furnished with contemporary pieces . Would love to return some day .
The Wi-Fi information was a little misleading but we eventually sorted it out.
Helen
28/04/2022
Lovely modern and clean accommodation with everything you need. Great location to explore Whitby, only a short walk to the beach and town. The scratch card provide makes parking nearby easy.
Claire
18/04/2022
Perfect location and really well equipped apartment for seeing the sights of Whitby. We loved it, will recommend and hope to book again.
Samantha
12/04/2022
the property was so clean and adorable and everything u needed for your stay. The staff were great and very helpful when we had to call as we couldn't find the property to begin with too.
The hot water was an issue on first and last day. Even when we left the tap running it was stone cold!
The 2nd bedroom was freezing, the radiator didn't do anything and either did the spare heater that we found. My daughter and friend had to use the spare bed in master bedrooms bedding for extra warmth. We would live to come bk but this would defo need to be sorted before we did I'm afraid.
Sandra
07/04/2022
The apartment was just as it was shown on the website, it was close to the beach and coastal walks
We couldn't find the entrance to the property. It wasn't stated in the info from Host and Stay that the entrance was around the back. The hot water ran out after the first days stay so had to boil a kettle to get washed. The TV was not as straight forward as we're used too so struggled to get the channels on.
Clare
06/04/2022
Location great, very quiet. Right next to the car park to unload and park up ,until we could get the parking pass. Well equipped. Very comfy beds.
It was cold on arrival. So expect no one in previously so had not been heated. Fine by day 2 but we only stayed 2 nights. But would not put us off staying again.
Dean
06/04/2022
Dominique
30/03/2022
Lovely apartment in Whitby. A great, quiet location. Well equipped and organised.
Eleanor
25/03/2022
Amazing apartment exactly as described.
Had the most incredible meal at Pizza West only a few yards away. It is amazing and cannot rate nearly high enough!
Slightly snug kitchen when cooking and the induction hob tricky. Shower temperature on one shower bit inconsistent but that's really minor and shouldn't put anyone off. Just for guests to be aware of.
Incredibly comfy beds and lovely soft furnishings.
Had a lovely time, thanks so much.
James
22/03/2022
Absolutely perfect in every way, location, facilities and cleanliness
Nothing
Lauren
06/03/2022
Sharon
16/02/2022
spacious. under floor heating. comfortable.
nothing.
Rachel
09/02/2022
The property was beautiful and had everything you could need. Clean and tidy and lovely details, the location was brill, 2 minutes from beach and 5 minutes walk to center. Quiet location for a good nights sleep but close enough to walk everywhere.
Nothing.
Martin
23/01/2022
This is a great property to stay at in Whitby. Its within easy reach of both the town and beach. We stayed during the winter months so didn't have any trouble with parking on street, I would imagine that parking may become more difficult during the summer months due to the amount of holiday lets, but there is a pay and display car park at the rear of the property. Overall the property has been finished to a very high standard and we would recommend it.
Chris C.
20/01/2022
Really enjoyed staying beautiful apartment,great location easy parking looking forward to booking again
Jak
25/12/2021
cute

little or no hot water
David
02/12/2021
Lovely clean apartment , excellent kitchen and appliances very comfortable beds and lovely showers. Couldn't fault the apartment and would definitely stay here again.

Nothing really
Laura
20/11/2021
location was lovely and quiet with not far to walk to town
the storage needs to be improved as there are no drawers. there is room to put some in all rooms. seem to have a lot of furniture tables that could be changed for drawers. also needs a washing machine and the boiler needs amending as the property caters for up to 5 people and only one person can shower at a time - you have to wait a good half hour/hour for the next person to be able to have a shower
Anonymous
16/11/2021
The court yard retreat was a hidden gem , the decor and furnishings were to an exceptionally high standard, it was very comfortable , clean and had everything you needed .Great location and perfect to take your dog
Needed a degree to work the tv and on our last evening we ran out of hot water
Holly
05/11/2021
This was our second time staying here and once again we had a fabulous time staying here, such a beautiful apartment in a perfect location. Everything was catered for so it's just like a home away from home, we can't wait to come back!
We loved everything!
Laura
28/10/2021
Beautiful decor; quiet location; well-equipped kitchen and two good excellent shower rooms.
Nothing.
Susan
01/10/2021
Very comfortable and well panned accommodations
Everything we needed was provided.
Nothing
Jo
26/09/2021
John
20/09/2021
Very modern with a good level of finishing

Hot water and should replace the shower valves for thermostatic controlled units
Anita
13/09/2021
Location was great. Good to have Netflix and Prime. Kitchen was well equipped especially if staying longer
The mattress and pillows were a bit soft for us.
Running out of hot water.
V&jregan
03/09/2021
The apartment was spotlessly clean. Plenty of kitchen equipment and little touches like teabags etc. Great location.
Everything was lovely. Can't find any faults.
Trudy
02/08/2021
Beautiful apartment, excellent location with free parking. Beds very comforatable and lovely outdoor space. Lovely park opposite.
Anonymous
01/08/2021
Ian
26/07/2021
Location was perfect.
Rooms were nicely decorated and had everything that you needed for a week in Whitby.
TV with Netflix & Amazon Prime was a nice touch.
Sofa very comfortable.
Kitchen well equipped.
Master bed very comfortable.
Bathrooms were excellent.
Kitchen and lounge are were a little small.
Lounge chairs not very comfortable.
Hot water was very hot in the showers and couldn't be adjusted.
Electronic safe wasn't working and override key not available.
It's a basement so there is a hint of damp.
Susan
09/07/2021
Lovely apartment, great location
Ann
02/07/2021
Clean and well equipped. Room ready when we arrived at 2pm
Smartv. Took a long time to work out how to useit and could only get live TV through bbciplayer app. All others were catch up. Would not have mattered so much but wanted to watch euro football.
Parking instructions for the scratch permit not clear and we got s parking ticket for not changing the date of arrival
Shower went cold when in. Hot water in master bedroom first and 2nd bedroom last
Jules
29/06/2021
Comfortable, clean and beautifully designed & decorated.
TV did not have ITV channels. Would not normally watch TV when away but Euro football games were missed so the gents were a little upset.
Mckay
18/06/2021
Property was comfortable with everything you needed and in a good location
WIFI was not working which had the added impact of rendering the TV as usless as it only had internet feeds
Ramli
15/06/2021
Location wise is great, near to beach. Facilities are all great though we don't know how to use the dish washer. So sorry!!! Wifi is fast. Plates, glasses and kitchen utensils are all present. Clean. Big space. Silent at night.
John
06/06/2021
Great location. The flat has all you need
Mrs
05/06/2021
Everything
Didn't realise the parking scratch card ended at 10am on departure day so ended up with a parking ticket.
Mohammad
01/06/2021
Floor heating
No control of the heating. It was timer based. Yet the control was locked with a PIN.
Lauren
17/05/2021
Anonymous
30/04/2021
This apartment was fantastic - great position, very well equipped, stylish and immaculately clean. Private courtyard/entrance.
Nothing
Alex
25/04/2021
Clean ,furnished and decorated fantastic
Outside in the court yard the table and chairs could do with a clean and plants need a refresh.
Paul
19/04/2021
Very clean and comfortable
They told us to use parking permits provided but there wasn't any, they told us that they would drop one off but one didn't arrive, we could not get the Wi-Fi to Connect to our devices
Angela D.
20/01/2021
This property is a really lovely place to stay. Recently renovated and equipped with some quality fittings and furniture. The master bedroom is HUGE! and the second bedroom is very reasonable in size. Beds are comfortable and bathrooms are well equipped.
The courtyard provided a lovely outside space to sit and relax with drinks after a long walk. The property is accessed from the back of the street with its own entrance (basement apartment mid-terrace with 5 floors), which faces directly onto the West Cliff car park, so really easy to park in and unload directly outside the gate/door if arriving later as it is free parking in there from 1800hrs to 0900hrs. We stayed for 3 nights so used the car park first night then used the free parking scratch card from the next morning. You are allowed to park with the scratch card until 10am after the last day, a bit confusing to work out initially but it states this at the bottom of the card. Parking in the Disc zone - spaces are really hard to drop on so it worked for us to use the public car park first night then find one early the next morning as people were leaving/checking out in the area. The West Cliff is a great place to stay, quiet enough but within easy reach of the beach, town and a short walk across the bridge to the Abbey etc.
Karen
27/12/2020
Everything

No washing machine and no proper kitchen bin
Natasha
05/11/2020
Perfect place, clean and tidy warm and cozy with wonderful showers and beautiful decoration
Amanda
22/10/2020
Beautiful accommodation , walk to the sea and the lovely Town of Whitby .
Christine
25/09/2020
Warm and cosy apartment. Very clean and beautifully appointed. We were very comfortable and wouldn't hesitate to recommend. The staff also couldn't do enough to ensure we enjoyed our stay. Thank you.
Justine
02/09/2020
Helen
20/07/2020
Beautifully decorated property, in a great location. Had everything we needed except a decent hot water system for four adults and an easily workable TV.
Ryan
22/03/2020
Nigel D
16/02/2020
Excellent facilities and very homely. We will definitely be back , and it is ideally situated for our getaway with our dog.
Mairi M., Glasgow
20/01/2020
A real retreat! Very comfortable 5 mins from the beach and short walk into town and harbour area. We had a wonderful stay and our dogs loved the beach !
Bill H.
20/01/2020
Excellent location; very stylish and comfortable interior fit out . No problems at all with the bedrooms and bathrooms...but let down by the services. The heating , for rather cool July weather is challenged; can't think how one would stay warm in March, and the hotter supply could not provide 3 showers, let alone 5, which is the property capacity. TV reception was none existent...someone has pressed too many buttons !
But...despite these things ..we really liked and enjoyed our stay . Signed...building professionals !!!
n10anderson
06/01/2020
The accommodation was very clean and modern however the heating system was interesting - the thermostat set at the hosts control and therefore we had no means of controlling the temperature which was cold at night . There was a burst water main in the street which left us with no water and we left early . This was not the fault of the rental company who responded very quickly to the problem and were very polite .
Craig
28/12/2019
A great apartment in a fantastic location to explore Whitby. Really well equipped with everything you need to enjoy your stay.
David
17/11/2019
Great location in a quiet spot just away from the centre of Whitby (5 mins walk). The flat is great. Very (Email hidden by Airbnb) fortable all round and great little extras throughout. Well equipped kitchen and the living room space was great. Really clean place and would definitely stay again when we are next in Whitby.
?
21/10/2019
Very nice and cosy. High standard furniture and appliance. Convenient location just five minutes to seaside. Except the hot water, not enough for 3 person.
Vanessa
29/07/2019
Such a wonderful place to go with your family. wonderfully located and beautifully decorated. It had everything we could think of and the hosts made it so easy. We would so use Courtyard Retreat again. It made for a fabulous holiday.
Peter
13/07/2019
This is a really well situated apartment with a very good arrangement for parking. The apartment is very well equipped.
Simon P.
20/01/2019
Beautiful accommodation with everything you need. Close to centre, would definitely go back when in Whitby.
Home Truths
Free parking is provided but this will be a few moments from the property.
The master bedroom has two beds - a king size bed and a single sofa bed.
The property doesn't have a bathtub but it does benefit from two walk in showers.
There are a few steps to the second en suite bedroom.
Similar Properties in the area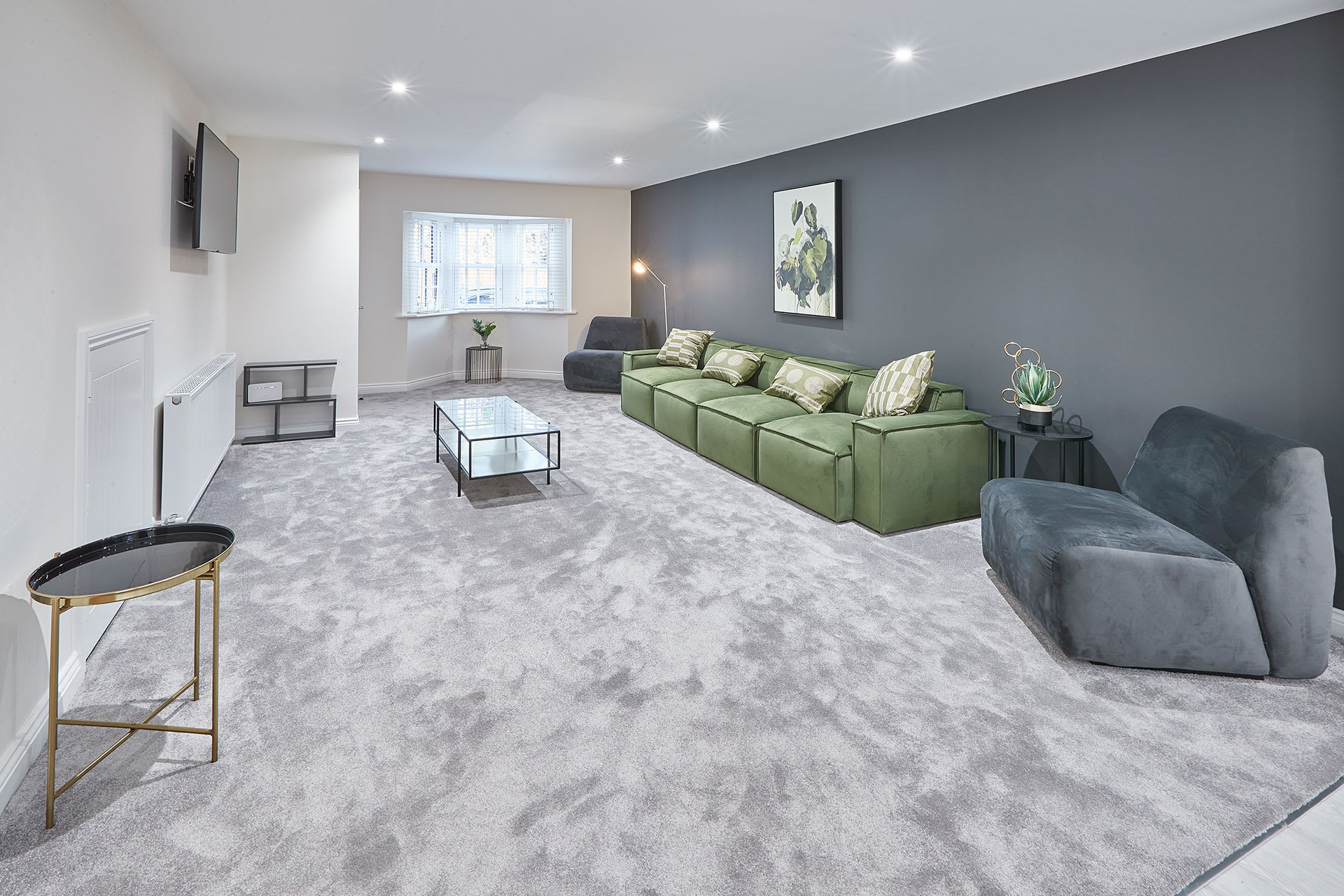 Littlebeck House @ Briggswath
Littlebeck House @ Briggswath